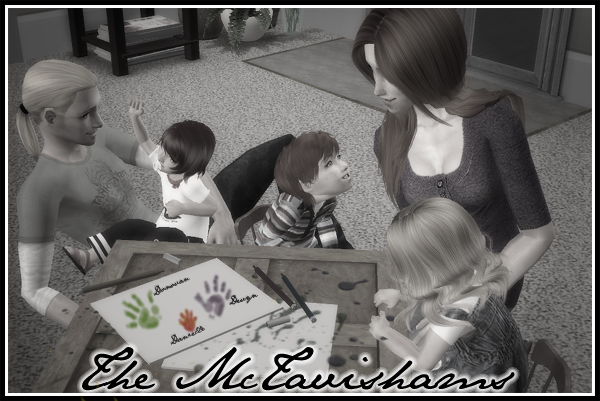 ----------------------------------
Meet the McTavishams; a family built by their strong founding matron Aislynn when she was forced to leave her life behind her and begin anew in the Covena Isles off the coast of Edamonella. This story is fictional, and is an
alphabet
legacy challenge
, which began on
The Sims Resource
, with the direct link
here
. The story is no longer updated at TSR, but the older posts still remain there, if you choose to read them.
Below you will find the links to the individual generations, synopses, five most recent chapters, FAQs and other tidbits. You can also navigate to them by clicking on the links above.
PLEASE TAKE WARNING: THIS STORY IS RATED R
This story is written for a mature audience. Some of the following story may be graphic in violence and/or sexual content, and may not be suitable for minors. If you are easily affected by these two things, leave now, or forever hold your peace. Thank you.
----------------------------------

01.24.11 -- The McTavisham Family Tree - Please be warned; if you are reading archived entries, this family tree may contain spoilers.